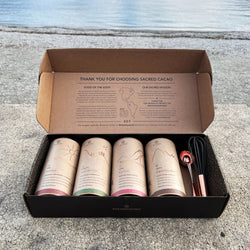 4 Flavours of Sacred Wild-Crafted Cacao:

Earth: Original Cacao

Fire: Chili Cacao
Love: Rose Cacao
Vitality: Matcha Mint Cacao
Meticulously crafted in a convenient powder form, thoughtfully infused with the essence of Wild-Crafted Criollo Cacao and a medley of 100% organic, plant-based, whole-food ingredients.
Enjoy this healthy treat as a latte, shake or smoothie!
+ Copper Spoon & Whisk
+ Free shipping Australia wide!